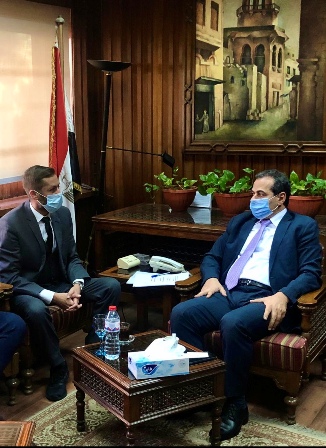 Charge d'Affairs of the Embassy of the Republic of Serbia in Cairo Bojan Stamenkovic held a meeting with Mr. Saad Mousa, Councilor to the Minister of Agriculture and land reclamation on enhancing bilateral cooperation between two countries in the field of Agriculture.
During the meeting which was held in the Ministry of Agriculture on 10th November 2021, Stamenkovic pointed to the possibility of exporting the agricultural products from Arab Republic of Egypt to the Serbian markets, as well as importing agriculture products from the Republic of Serbia to the Egyptian markets.
Dr. Moussa praised the proposal of enhancing bilateral cooperation between two countries especially with regard to the quantities and different kind of products in mutual market exchange.
At the same time Dr. Moussa pointed to Egypt as one of the greatest producers of Oranges, Pomegranates, Mango, Grapes and other Citrus products as well as being one of the biggest importers of Apples, which would make that the proposal of the Serbian side is both in the interest of the two countries.
14. November 2021